the cherry orchard
by Anton Chekhov
directed by Bill Rauch
Scenery: Christopher Acebo
Costumes: Shigeru Yaji
Lights: Michael Chybowski
Sound: Andrew Nagel
Photos: Joan Marcus
The Cherry Orchard is regarded by many as Chekhov's masterpiece, being his last work. The tale was simple, the landowner, Mdme. Ranevskya has a problem – she is out of money. She and her brother are given the opportunity to parcel out their orchard, and develop summer cottages which would give them a great deal of steady income. However, they choose to ignore the problem and hope it will resolve itself, leading to the inevitable auctioning off of the property. In this production, director Bill Rauch wanted to explore the timelessness of the story, by setting the first half of the play in 19th century Russia, and the second half in 20th century America. The sound design varied from originally composed pieces, to polkas, to a very intense final scene change under Nine Inch Nails' "Into the Void." At the end of the play, the cherry orchard itself gets cut down. For this production, loud chain saws rang from the lobby into the theatre, hurling us into the dark with their deafening whine. Click on the link below to hear the transition from Act I to Act II.
Audio clip: Adobe Flash Player (version 9 or above) is required to play this audio clip. Download the latest version here. You also need to have JavaScript enabled in your browser.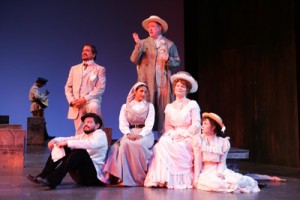 The time shift for this production occurred upon the entrance of the vagabond, which we portrayed as a homeless man. The actual time shift was initiated by the infamous "distinctive sound" or "string breaking sound" that is considered the first conceptual sound cue in the modern theater. In this picture, we see the family gathered with their friends admiring the sunset, immediately prior to the "distinctive sound."
The orchard itself was defined as the audience house, allowing the cast to simply look out when referencing their hallowed field. Using surround and ceiling loudspeakers, the audience could be enveloped with the sounds of the orchard, while the haunting orchard melody faintly played. Click below to hear the orchard melody.
Audio clip: Adobe Flash Player (version 9 or above) is required to play this audio clip. Download the latest version here. You also need to have JavaScript enabled in your browser.