picasso at the lapin agile
by Steve Martin
directed by Josh Gladstone
Scenery: Nicole Coppinger
Costumes: Amy Ritchings
Lights: Sebastian Paczynski
Sound: Andrew Nagel
Photos: Nicole Coppinger
During the summer of 2007, the John Drew Theatre at Guild Hall of East Hampton closed for a $7 million dollar renovation. Guild Hall continued its programming however, through the use of East Hampton Studios, a large soundstage located in Wainscott, NY. Artistic Director Josh Gladstone chose Picasso at the Lapin Agile as the capstone production of the season, bringing a comedic and colorful end to the Guild Hall's summer 2007. Picasso… is the story of one evening at the famous Lapin Agile pub in Paris. We are introduced to the bar regulars, as well as Albert Einstein, a noted physicist. The Lapin Agile is a favorite haunt of painter Picasso, and Einstein is quite interested in meeting him. At left, you can see the bar, with Albert seated. Click the link below to hear the opening piece, that underscored the bar tender, Freddy, as he opened the Lapin Agile, and the play.
Audio clip: Adobe Flash Player (version 9 or above) is required to play this audio clip. Download the latest version here. You also need to have JavaScript enabled in your browser.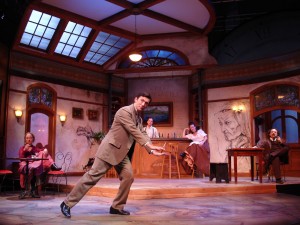 The play continues with the audience being introduced to more characters, each of which having a more than passing interest in Picasso, be it romantic, financial, or mutual admiration. With of the three geniuses (Picasso and Einstein) arrived, a third, more mysterious visitor descends into the Lapin Agile with an enormous crash. That visitor, unnamed Elvis, brings news from the future, helping Picasso be ushered out of his blue phase.
Click the link below to hear the explosion and entrance of the mysterious visitor.
Audio clip: Adobe Flash Player (version 9 or above) is required to play this audio clip. Download the latest version here. You also need to have JavaScript enabled in your browser.
Scenic designer Nicole Coppinger created the enchanting Lapin Agile on stage, tr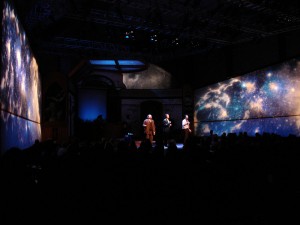 ansporting the audience to the warmth, tradition, and magic of the Parisian bar. Shown at right is Sagot, the art demonstrating what can or cannot be sold. Near the finale of the play, magic fills the bar and the theater, as the three heralds – thought, music, and art – express their views for the future. The play ends with rhyming toast, as the characters usher out the 19th, and in the 20th Centuries. Perhaps most thought provoking is Elvis' last line of the toast as we say goodbye to the age of indifference, and "hello to the age of regret." To the 20th Century, indeed.
Click the link below to hear the magic music that underscored the moment shown to the left.
Audio clip: Adobe Flash Player (version 9 or above) is required to play this audio clip. Download the latest version here. You also need to have JavaScript enabled in your browser.