space
by Tina Landau
directed by Joan Herrington
Scenery: Greg D. Roehrick
Costumes: Gwendolyn Nagle
Lights: Jeffrey R.H. Rogers
Sound & Original Composition: Andrew Nagel
Projections: Kevin Abbott
Photos: Mary Whalen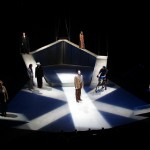 The central theme of our production of Space was how we are unable to prove that something doesn't exist, and what the ramifications of that fact are. In this piece, we meet Alan, a respected psychiatrist who gets visited by three patients, all of which claim to have been abducted by aliens. Skeptical, he works hard at disproving what happened to them, digging into their past and exploring what may have "created" these thoughts. In the midst of it, Alan meets Bernadette, a scientist in the SETI lab. She challenges him to look beyond his current ideas and open himself to possibility. In the end, Alan has become a believer, while his three patients have taken his advice and completely rationalized their "abductions" as simply repressed memories of the past. Dreams sequences fill this play, and the audience is left wondering what moments were real. By the end of play, Alan is in the same place as the audience.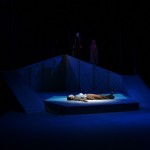 To the right, we see Alan during a dream sequence, signified in the text as "flights." The show featured a lot of underscore using music, rhythm, and simply sound effects. This allowed the sound to be removed at portions, and for the audience to be enveloped in deafening silence. Click the link below to hear one of the abduction talk sequences, that begins with a pounding transition, and continues as a driving, relentless underscore in the scene.
Audio clip: Adobe Flash Player (version 9 or above) is required to play this audio clip. Download the latest version here. You also need to have JavaScript enabled in your browser.
The end of the play culminates in a space flight taken by Alan and Bernadette. In the production, the central piece of the scenery tipped up with the two actors on top, placing it at a pitch for a high powered video projector to project the space flight on top of them. Kevin Abbott and I worked hard at sequencing the video and sound/music together, and the end product worked quite well to take us all on the journey. Click on the link below to hear a part of the "Into Deep Space" flight sequence.
Audio clip: Adobe Flash Player (version 9 or above) is required to play this audio clip. Download the latest version here. You also need to have JavaScript enabled in your browser.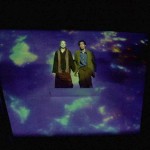 Either the universe is teeming with life and we are not alone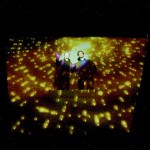 Or there is no other life in the universe and we are alone.
Either way, the notion is remarkable.
Either way, what is out there is bound to be… beautiful.
-Tina Landau's "Space"
Audio clip: Adobe Flash Player (version 9 or above) is required to play this audio clip. Download the latest version here. You also need to have JavaScript enabled in your browser.