hedda gabler
by Henrik Ibsen
directed by Christopher Carter Sanderson
Scenery: Zane Pihlstrom
Costumes: Mike Floyd
Lights: Thom Weaver
Sound: Andrew Nagel

For Hedda Gabler, a combination of classical piano pieces and original compositions helped create the restrictive
world that Hedda lived in. Her outlet – her window to a happier time was her piano that she enjoyed so much. In this production, a Yamaha Disklavier computerized player piano was rented and used on stage to represent that music of her past. For all intensive purposes, the Disklavier was a regular, black grand piano that got moved around the stage as a piece of scenery.  An "umbilical" cable provided power and a connection to the SFX playback computer, which streamed MIDI recordings to the piano in real time. As a result, all the music of this production was created live, from an actual acoustic grand piano, without anyone touching the keys (that were moving as the piano played). The files themselves were simply data – without sound for themselves. The ghosts playing the acoustic piano provided the music for Hedda Gabler.
For added effects and to evoke moods in specific places of the play, microphones located within the piano were fed through an effects processor into the loudspeakers in the auditorium. This allowed the piano to become "bigger than life" when necessary.
During transitions and for underscoring, piano pieces by Rachmaninoff & Liszt that used in the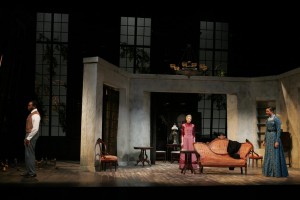 production for their inherent dramatic, almost melodramatic qualities. For example, Rachmaninoff's Elegy Op. 3 No. 1 was used between scenes 1 and 2, where movers re-arranged the house, including moving the piano while it continued to play. Another example is at the end of the play when Hedda takes her leave to play the piano and shoot herself. In our production, the piano began playing the final bars of Liszt's Hungarian Rhapsody, a piece that matched the almost absurd frantic feel to mirror her mood.
In addition to the Rachmaninoff and Liszt, original compositions were used as underscore, transition, and post-show music. The link below is a computer synthesizer player back one of the original composition MIDI files.
Audio clip: Adobe Flash Player (version 9 or above) is required to play this audio clip. Download the latest version here. You also need to have JavaScript enabled in your browser.