all's well that ends well
by W. Shakespeare
directed by James Bundy
Scenery: Zane Pihlstrom
Costumes: Mike Floyd
Lights: Matt Frey
Sound: Andrew Nagel
Photos: Joan Marcus
All's Well That Ends Well is a play predominantly about Helena, a physician's daughter of non-noble blood, who cures the King of his fistula. In payment, she asks for Lord Bertram's hand in marriage, which he agrees to, and then immediately goes off to war in an effort to escape the bonds of the union. Helena is of course quite hurt, and sets out on a quest to find Bertram. This leads her to Italy, where she meets Diana, a young Florentine who has captured Lord Bertram's eye. The two ladies strike up an agreement, and in a carefully crafted "Bed-Trick," Betram sleeps with Helena, whom he mistakes for Diana. That act secures their marriage, and a now more mature Bertram agrees to love his wife and future child.
Click the link below to hear a sampling of the opening arrangement of "Windmills of You Mind."
Audio clip: Adobe Flash Player (version 9 or above) is required to play this audio clip. Download the latest version here. You also need to have JavaScript enabled in your browser.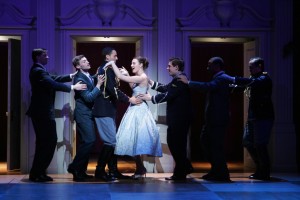 All's Well used music of the 40's, 50's, and 60's to create a world of romance. Some of the pieces were performed by actors, with new arrangements by Matthew Suttor, and a language change. Upon his cure, the King enters the scene singing Cole Porter's "I Love Paris in the Springtime," in French. In repayment of her efforts, he offers Helena the hand of any eligible nobleman in the Court. To the left is the Lord Selection Dance, which featured a mambo arrangement of the Porter tune. In the end, she selects Bertram. Click play below to hear portion of the Lord Selection Dance.
Audio clip: Adobe Flash Player (version 9 or above) is required to play this audio clip. Download the latest version here. You also need to have JavaScript enabled in your browser.
Countess, and Diana at the moment when Diana accuses Betram of "bedding her," thus he must wed her. It is all a clever trick though, and Helena appears moments later, and reveals the truth of the matter, securing her marriage and her love.
Click below to hear a portion of the final arrangement of "Windmills." that was used as a dance at the end of the production.
Audio clip: Adobe Flash Player (version 9 or above) is required to play this audio clip. Download the latest version here. You also need to have JavaScript enabled in your browser.
The system: All's Well was treated as a play with music, many times with the performers singing and playing instruments along with pre-recorded tracks. Two systems were controlled by the operator – that of the sound reinforcement (microphones on the actors and instruments), and that of the playback system. To create more depth to the pre-recorded music, they were mastered as multi-track recordings, and then mixed within the theater space to different outputs and loudspeakers, allowing the sound to truly envelop the audience, and actors. The tracks were mixed down in the studio dry, and all effects processing was done through offboard processors, in real time, allowing the effects to be also mixed into the room, sometimes to separate loudspeakers. The playback was by SFX that connected directly into a BSS SoundWeb matrix – all music track mixing was done within the SFX software. The sound console provided mixing only to the sound reinforcement system – the wireless and floor microphones used through the performance.
Console – CADAC A Type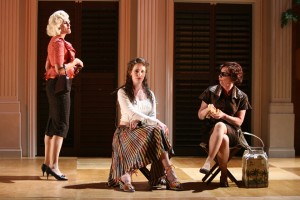 Playback – SFX
Loudspeaker Matrix – BSS SoundWeb
Processing – Lexicon studio FX processors
Stage Microphones – DPA 4066 (x4)
Wireless Microphones – Shure UHF-R with Countryman E-6 headsets
Loudspeakers
Reinforcement : EAW JFX100 arrays
Playback – EAW JF200, UB12
Surround – Bose 101
Sub – Meyer USW (x2), & 650P (FX)